Mittelstand Digital Summit 2021
Our Mittelstand Digital Summit took once again place on 27th and 28th of April, focusing on the digitalization of medium-sized companies. Participants received exclusive insights and knowledge from over 25 experts from industry, e-commerce and logistics on the latest trends and developments in digital transformation, as well as valuable tips on how their company can also make the leap to a future-proof digitalization. This year, the focus was particularly on the D2C hype and the digitalization of industry and production.
At a glance
2 days, 2 virtual stages, around 25 speakers
Exciting insights on the focus topic Direct-to-Consumer
Trend topics Smart Manufacturing, Industry 4.0 and IoT in warehouse and logistics
Mix of expert talks, best practice presentations and discussion panels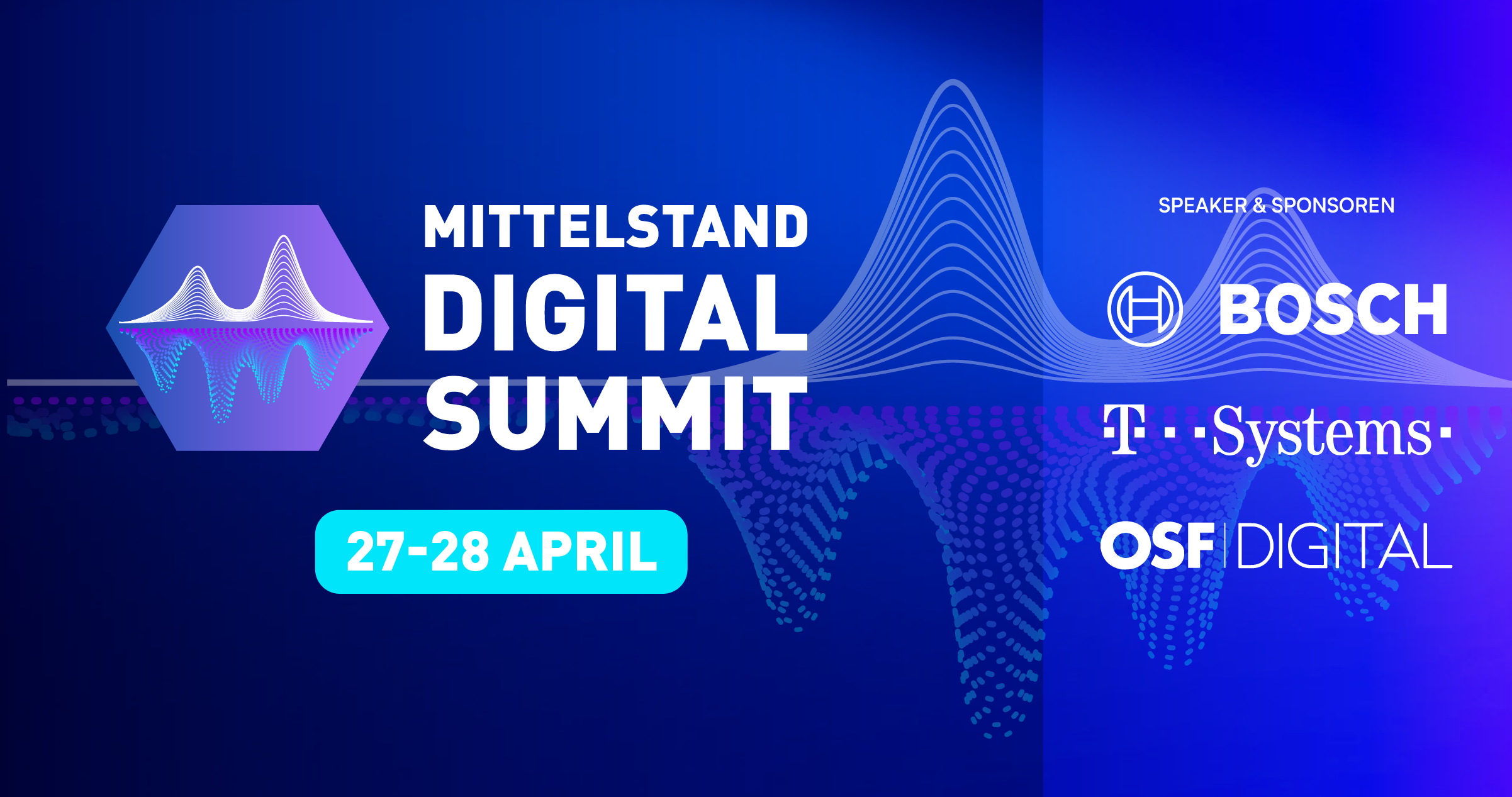 Top Talks from the MDS April 2021

Live Demo 360° Customer View in B2B E-Commerce
The digital natives are coming - and as corporate buyers, they place high demands on B2B e-commerce portals. They also expect extensive self-service functions and highly personalized shopping experiences in B2B online stores. In a live demo, B2B experts Anna Suding and Jakob Schult show how you can create an intuitive, individualized shopping experience with a Salesforce multi-cloud solution, even in the much more complex B2B e-commerce.


CHANGE IT! With Tradition to B2B Commerce
Which technologies and interfaces do I need? Which processes do I need to adapt or even establish from scratch? What roles are needed to operate successfully in e-commerce? How do I change the way I address my customers? These are all questions you need to ask yourself when introducing a web store. In our presentation, we will give you honest insights into the e-commerce project at ARNO and introduce you to the topics of change management and usability.

Fast and sustainable success: How the Swiss spirits producer Tenoris managed to scale professionally with Actindo.
In their joint presentation, Tenoris Co-Founder and Managing Director Patrick Stauffacher and Manuel Fietz from Actindo demonstrate how Actindo's Digital Operations Platform has ensured agility and scalability for the Swiss spirits producer.
Improving customer experience through omnichannel

Ensuring a perfect customer experience across all channels is a major challenge for many retailers. In his presentation at the Mittelstand Digital Summit, Tim Schestag from best IT showed the extent to which a well thought-out omnichannel strategy can be the solution to the problem and presents best practice examples for the optimal implementation of omnichannel commerce.

Iceberg ahead - the art of keeping Shopware projects agile

Andreas Krause and Julian Fleischmann tell in their presentation how to build projects agile and flexible with Shopware. Furthermore, they tell with a view to their many years of experience, which hurdles and advantages Shopware brings with it.

Integration of store and merchandise management - how the connection becomes an erg success
The integration of a digital operations platform with the store system is one of the key challenges for a successful e-commerce project. In our presentation we explain how the planning of the integration becomes a success and which stakeholders are necessary for it. Benedikt Merl also explains why creativestyle and Actindo offer the basic integration between Actindo and Magento free of charge to minimize the project risk for retailers.
Guided Selling: Personal buying advice for online retailing

Do you sell products in need of explanation in your online store? Is the filter search based on technical product features? As a customer, it is often hard to see through, which often leads to frustration. The tab is closed, the customer is gone. It will be shown how AI-supported Guided Selling can be used in one's own online store to support customers individually in their purchase decision and to increase conversion.

PIM / PXM / MDM Core components for digital transformation and efficient omnichannel managemen
How do PIM (Product Information Management), PXM (Product Experience Management), and MDM (Multi Domain Management) differ in practice?

What is the influence on organization, processes, and data models?

Where are the boundaries between ERP / merchandise management, web store, and marketplace connection in particular?
Increase customer satisfaction and inspire your colleagues
Online retailers face a lot of competition from each other and from marketplaces. In this competitive environment, it is therefore very important to create competitive advantages and reduce purchase abandonment. In order to additionally meet customer demands and at the same time optimize shipping processes internally, it makes sense to handle one's shipping via a multi-shipper platform in Actindo's backend.
D2C - Direct 2 Consumer discussion panel
At this year's Mittelstand Digital Summit, top experts addressed the focus and megatrend topic of Direct to Consumer (D2C). The discussion panel featured Dr. Uwe Steinkötter (Bosch Connected Industry), Isabella Nowicki (best it), Ludger Gerdes (shipcloud), Rene Otto (Trust in Dialog and RockNShop) and Boris Krstic (Actindo) as speakers. The panel was moderated by Oliver Lucas (ecom-consulting), who animated the experts to a great discussion.

Your own B2B store vs. Amazon and Co.
The popularity of online marketplaces such as Amazon Business, Mercateo, Wucato & Co. is growing rapidly. From small, medium-sized companies to large corporations - all can sell their products quickly and profitably online on these platforms. Therefore, the question arises for many B2B companies whether their own B2B online store is still necessary at all.

Platform economy using the example of the B2B platform Fashion Cloud.
In this presentation, Co-Founder René Schnellen presents how Fashion Cloud has made its mark in the B2B fashion world. He outlines with which topics, Fashion Cloud was able to generate the necessary network effects to solve the chicken-and-egg problem of any platform.
DataWow - Shop Optimization with Business Intelligence
Using selected use cases (wohnfreuden.de, desiary.de and obramo-security.de), we show you how business results can be significantly increased by integrating BI into operational processes. For this purpose, we analyze campaigns, inventories and contribution margins and automatically indicate measures when action is required. The accompanying monitoring makes the effectiveness of the measures transparent.

The road to an automated warehouse - The step to efficient intralogistics made easy.
How can my intralogistics help give my company a competitive edge? For example, through fast and highly flexible order, picking and shipment processing, as well as ensuring delivery capability through absolute inventory transparency. And for future growth - through uncomplicated scalability and expandability.

Digital Disruption: How to Reinvent Your Business Model
Tomorrow's challenges cannot be mastered with yesterday's methods. Digital disruption requires new thinking and new strategies. Using numerous historical and current examples, the pattern of failure in disruptive change is traced. But you will also learn how to make your company "disruption fit," how to recognize trends in digitization, how to realign your own business model, and what new management approaches you need to adapt to the new world.
Increasing efficiency through digitization in sales with a B2B customer portal.
Practical examples and references are used to show what is important when implementing a B2B customer portal and what opportunities for business optimization arise from this.

Direct To Customer decoded - how DTC Brands steal the show from established brands
Direct to Customer is the order of the day for brands and manufacturers, and it means much more than just having your own web store or direct sales. Successful, small brands - the DTC brands - are busy taking market share from the established brands, with rapid growth, innovative products and a strong customer-centric focus.
Successful without your own store? Using platforms and marketplaces.
Driven by the pandemic, the customer journey of end customers is increasingly shifting to the digital realm, especially to platforms and marketplaces. For retailers, this means becoming visible where customers can be found. The presentation provides practical advice on how to generate digital visibility and how to keep the flywheel of growth turning.
This could also be of interest...