Fulfillment Service Provider
As a fulfillment service provider, you enable brands and retailers to outsource complete business processes and thus concentrate on their core business. With a suitable IT base, you can optimize and automate your own workflows to smoothly handle the background processes of various customers. Thanks to the numerous APIs and extensive inventory management, Actindo will transform you into a multi-channel professional - with or without own warehouse.
Fulfillment-Dienstleister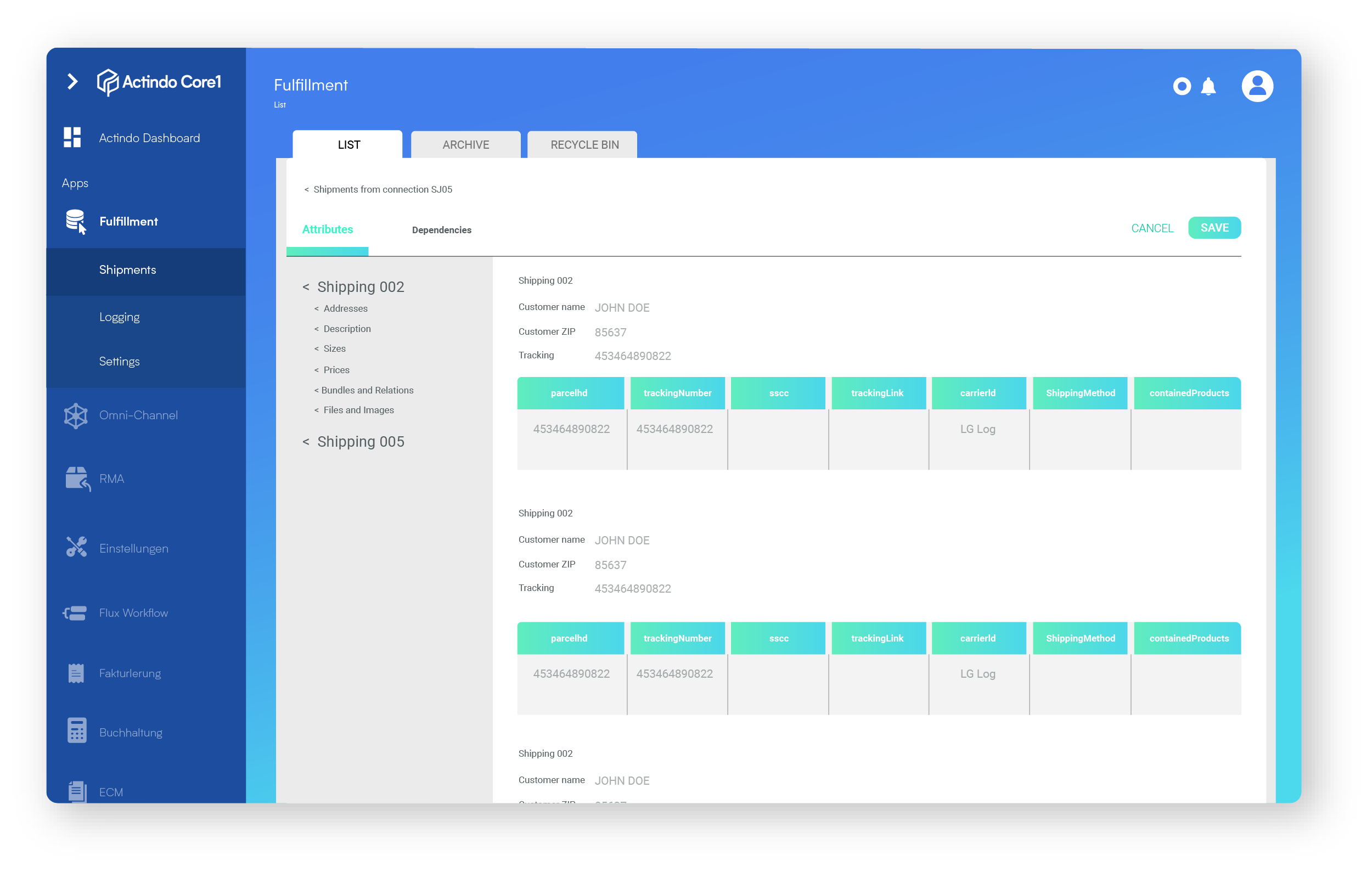 Als Fulfillment-Dienstleister ermöglichen Sie es Marken und Händlern komplette Geschäftsprozesse auszulagern und sich so auf ihr Kerngeschäft zu konzentrieren. Mit einer geeigneten IT-Basis können Sie Ihre eigenen Arbeitsabläufe optimieren und automatisieren, um die Hintergrundprozesse verschiedener Kunden reibungslos abzuwickeln. Durch die zahlreichen Anbindungsmöglichkeiten und umfangreiche Bestandsverwaltung macht Actindo Sie zum Multi-Channel-Profi für all Ihre Kunden - mit und ohne eigenes Lager.
Key features for efficient dispatch processing
Connection to External Logistics Providers
The Actindo Core1 platform is API-based and offers numerous integration options to connect to external logistics providers for warehouse management as well as shipping service providers such as DHL and DPD. Depending on the interface, data exchange can be automated in various formats such as CSV and XML.
Integration of Sales Partners
For different customers, you need to be present on various sales channels: from web shops to marketplaces. With the help of Actindo you can synchronize data and data sources across multiple channels for a centralized management of all customer orders in one system.
Comprehensive Warehouse Management
If you have your own warehouse for logistics and dispatch processing, Actindo supports you in optimizing and centrally controlling your warehouse processes. With the help of warehouse reports, you keep an overview of all goods movements from receipt to dispatch and can automate work processes.
Monitoring Stock Figures
With the help of detailed reports from the Actindo Warehouse module, you can always keep an eye on the stock figures in your own or external warehouse. Actindo provides you with an overview of all incoming and outgoing goods. This way, you can avoid delivery shortages at any time and can initiate the timely procurement of goods.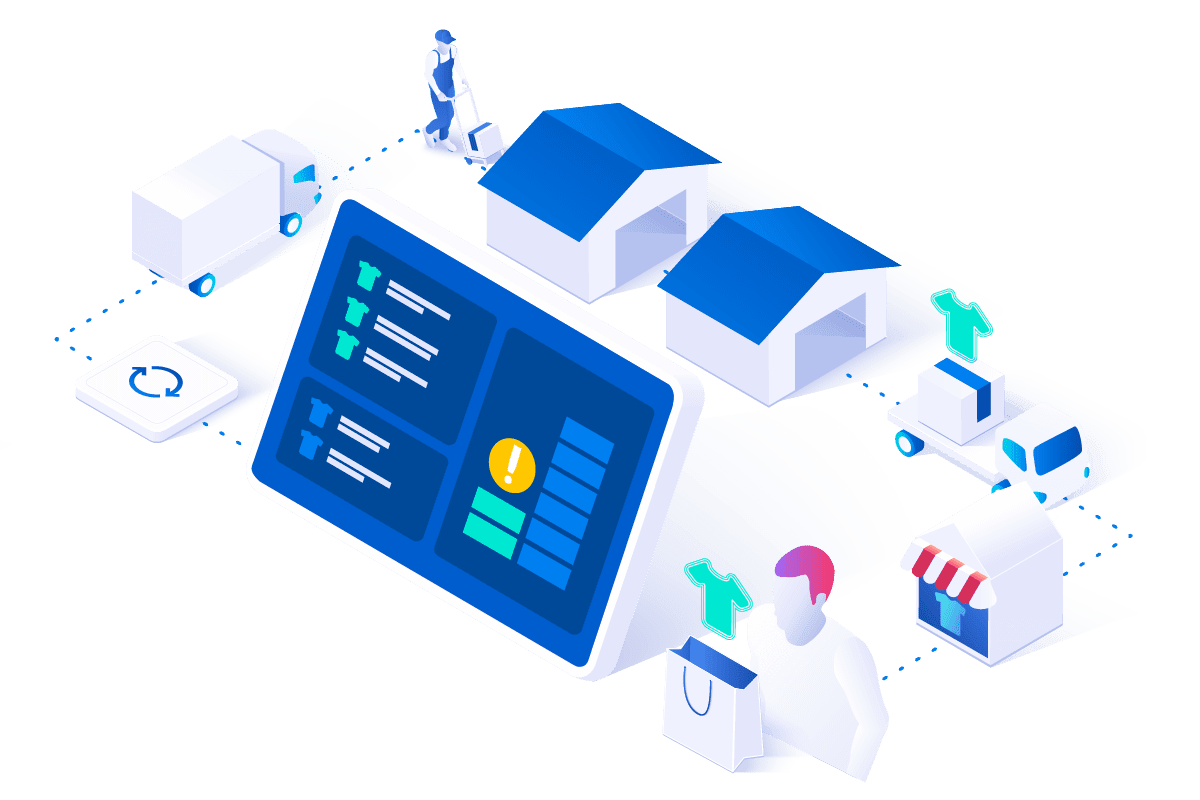 DIGITAL DISTRIBUTION MANAGEMENT
Future-proof Fulfillment
Digitalization offers numerous opportunities for logistics. With IT-supported warehouse and shipping management, you can automate and optimize your processes to make your customers' order processing more efficient.

Actindo includes powerful features for warehouse and logistics that ideally support fulfillment service providers. Whether you have your own warehouse or commission external logistics providers, Actindo offers a strong basis for the digitalization of your processes.
The advantages for fulfillment service providers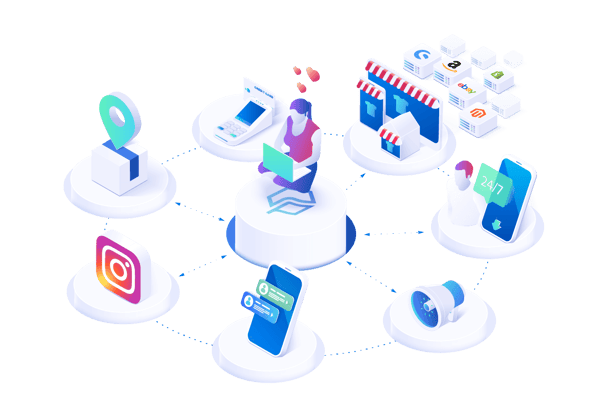 Flexible Interfaces
As a service provider, you must be able to connect your customers and their sales channels as well as external logistics and shipping providers. Moreover, you must be able to integrate them into your IT infrastructure. Actindo has numerous integration options and direct interfaces to shop systems, marketplaces, and shipping service providers. The flexible API-based platform enables the individual integration of external systems according to your requirements.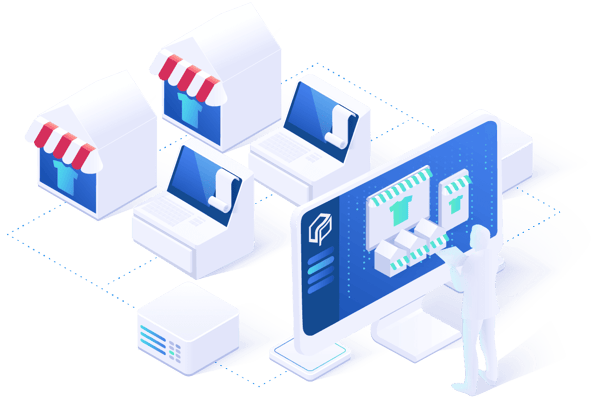 Warehouse Process Management
If you operate your own warehouse, you have to take care of the entire warehouse management yourself. With Actindo you can integrate all your warehouse stocks and different warehouse types and control them centrally via our Digital Operations Platform. You can manage stocks down to the individual storage location and always have an overview of all stocks and goods movements.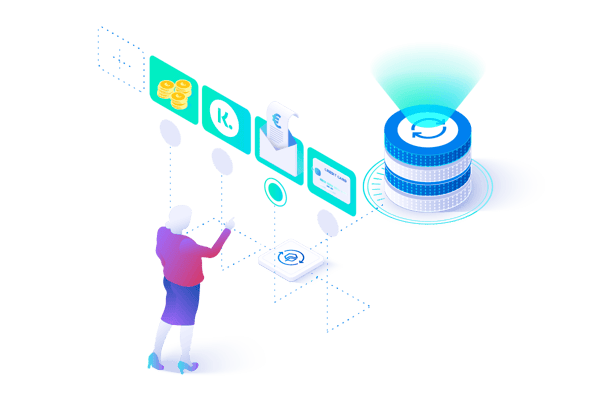 Comprehensive Reporting
With a large number of different customers you organize the distribution management for, you need to keep an eye on stock levels constantly. Actindo provides you with comprehensive reporting on all goods' movements: from incoming goods, storage locations, and outgoing goods, and even to defective goods. In this way, you can seamlessly track booking histories and stock changes.
This might also be of interest...