20 - 21 June 2023, Berlin
K5 FUTURE RETAIL CONFERENCE 2023
Meet Actindo as Exhibitor at Expo Hall 1 Booth 23
K5 represents the central hub for creators who want to actively shape the future in eCommerce and retail. It's where big players, top retailers and service providers come together to exchange ideas about current trends in the digital commerce space.
Together with our partner BigCommerce, we'll give you a guide on how to transform your commerce architecture to become more innovative and future-proof.
Connect with us and meet our team in person - we look forward to discussing your thoughts and business opportunities with you.
Directly book your personal time with us in advance:
Follow this link to schedule your personal appointment!
13 - 14 June 2023, Amsterdam
MACH TWO
Learn the Art & Science powering the future of business
Join us at MACH TWO - discover how headless and composable commerce can help you enter a new era of unified retail operations.

We'd love to meet you to discuss any topic around how a Digital Operations Platform can transform the way you do business today.
Actindo's all-in-one system could be the missing tool you need for future growth in digital commerce. Let's seamlessly integrate and streamline your business processes, boost your efficiencies, and elevate your customer satisfaction to new heights.
09 - 11 May 2023, Barcelona
Shoptalk Europe 2023
Meet Actindo at Shoptalk Europe, the premier event for retail and e-commerce innovation.
Speak with our experts to learn more about how Actindo's all-in-one system can help you grow your digital commerce, streamline your business processes, increase efficiency, and improve customer satisfaction. Our team will be available to answer all your questions. Don't miss this opportunity to discover how Actindo can help you grow your business.
Further information here!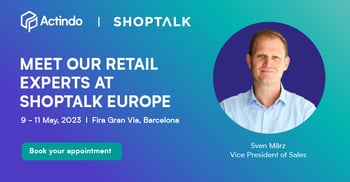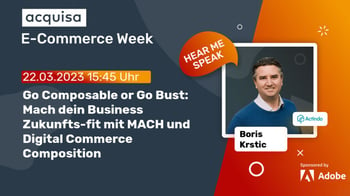 20 - 23 March 2023, O

nline
Acquisa E-Commerce Week 2023
Watch the exciting presentation by Boris Krstic, our CEO and Co-Founder (in German only)
From 20th to 23rd March 2023, more than 40 practical lectures with actionable advice will take place at Germany's largest eCommerce conference, the Aqquisa eCommerce Week. This will take your company to the next level!
E-Commerce Expo Berlin 2023
E-commerce Expo Berlin creates entrepreneurial opportunities for the entire e-commerce ecosystem: from merchants, to platforms, hosting providers, logistics service providers, to payment processors as well as other online solution providers. The expo will bring together the top players in the e-commerce industry, providing an excellent opportunity for online sellers and retailers to expand their expertise in various areas and refine their business strategies. Attendees will also get the opportunity to attend lectures on the latest e-commerce trends.
Further information here!

Get to know our customers
ETERNA
ETERNA, a leading manufacturer of shirts and blouses, has managed to merge its existing processes and IT infrastructure into a holistic unified commerce platform with the help of Actindo.