Food & Beverage Checklist: Omnichannel Sales & Fulfillment
With the rise in direct-to-consumer (D2C) sales of food and drink, companies are looking to optimize their omnichannel strategies and make supply chains and inventory turnover more efficient.

This checklist gives you the required foundations to optimize the fulfillment process of your food & beverage business, and improve customer engagement.
We guide you through all important areas of digital and physical commerce to assess the current state of your business and plan ahead next steps: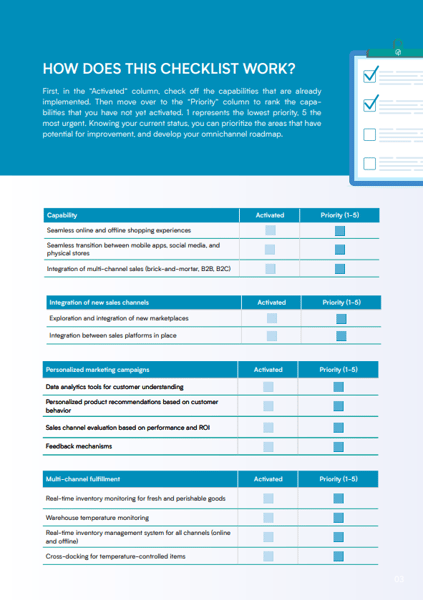 In this checklist, you first identify the processes that have already been implemented in your company. Then, prioritize the processes that are not yet in place (1-5).

Knowing your current status, you can prioritize the areas that show the most potential, and develop your roadmap for optimal omnichannel sales and fulfillment.
Steps Covered
Seamless omnichannel experiences: Create consistent brand experiences across all channels
Real-time inventory management: Ensure accurate inventory visibility in real time
Optimized fulfillment: Coordinate your order fulfillment and collaboration with third-party fulfillment
Last-mile optimization: Ensure fast and reliable delivery directly to the customer
Automations: Identify and leverage automation opportunities