Actindo gets the MACH certification for modern interoperability as one of the most innovative and flexible Digital Operations Platform for transactional business models.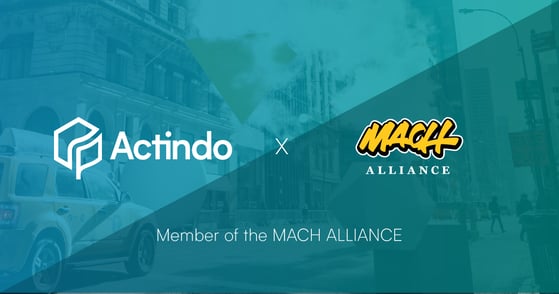 We are now a member of the MACH Alliance, a group of independent tech companies dedicated to advocating for open, best-of-breed technology ecosystems. Our Core1 Digital Operations Platform has passed the strict vetting process for technology architecture by MACH (based on Microservices, API-first, Cloud-native SaaS, and Headless). The alliance is rooted in the common belief that the interoperability and open architecture of modern software will propel current and future digital experiences, one that Actindo wholeheartedly supports.

Sign up for our weekly newsletter:
"We are thrilled to join with our colleagues and partners in the MACH Alliance "The coolest tech in town club". Managing multiple composable commerce vendors and navigating data, microservices and capabilities across them can be a big road blocker for digital transformation and going towards a composable enterprise. We, at Actindo, have made it our mission to enable sophisticated transactional business models beyond retail, e-commerce and desktop and be responsible for driving and delivering the single point of truth for composable commerce and control customer-centric experiences in the unified commerce era.," says Boris Krstic, Co-Founder & CRO at Actindo.
Digital transformation is bringing widespread connectivity that is independent of time and place, offering great potential but also challenges for retailers, manufacturers, and brands. Consumers are accessible anytime, anywhere, use a variety of different devices and have high expectations when it comes to their shopping experiences. Companies still stuck on legacy, monolithic systems that were never designed for such modern touchpoints cannot meet these demands. Composable commerce is now delivering a new approach to digital commerce. The Corona pandemic is seen as a driver for this rethinking of e-commerce, with digital sales channels gaining massive momentum and demonstrating the importance of flexibility and agility for businesses to respond to unforeseen developments.
At Actindo, we have recognized the trend towards modular IT and, with our Actindo Core1 platform, we offer a flexible all-in-one solution that makes it possible to integrate and centrally control all touchpoints as well as existing systems. It is based on the innovative MACH architecture and thus provides ideal conditions for a modular commerce setup and an innovative ERP strategy. It can be deployed both as a central solution and as a scalable layer on top of existing systems, enabling easy modernization of monolithic legacy IT.
Switching from a traditional ERP system to a modern solution based on the composable commerce approach does not have to be a costly mammoth project. Reliable legacy systems can be easily integrated into the modern commerce environment and linked to modern applications with Actindo's Digital Operations Platform. Since day one, the Actindo Digital Operations Platform has been a cloud-based solution operating microservices on an API-first architecture.
How Actindo adds value to the MACH architecture in two ways:
When a commerce platform is not yet established, Actindo provides the platform that helps connect multiple (MACH) technologies and compliment with decoupled services in connection with those technologies that build a unified commerce infrastructure.
When a platform is already established, Actindo can add headless decoupled ERP and digital operation functionalities that work with a front-end of choice and edge of choice.
"The Actindo Core1 platform based on MACH technologies supports the approach of composable enterprises in which every component is pluggable, scalable, replaceable, and can be continuously improved through agile development to meet evolving business requirements. It does this with the four pillars on which the platform is built: microservices, API-first, cloud-native, and headless. In other words: MACH," says Patrick Prasse, Co-Founder & CTO of Actindo.