Maria is a content manager at Actindo and writes on her favorite topics about software, tools and technological change. As a tech enthusiast, she aims to make digital transformation simple to understand.
As e-commerce businesses continue to expand globally, sophisticated logistics processes become essential to meet customers' expectations for seamless and fast delivery. In our latest e-commerce expert interview, we talk with Sebastian Enders-Comberg, CTO of VCE Solutions.
He provides insights into the latest trends reshaping the industry, from innovative carrier integration to efforts in reducing carbon footprints. Discover how VCE Solutions is leading the way in these transformative changes.
About
Sebastian Enders-
Comberg
Sebastian Enders-Comberg is a graduate in industrial engineering and has been a key member of the VCE team for 12 years. As the CTO in the VCE SOLUTIONS division, he is responsible for advancing SaaS solutions through the implementation of innovative technologies and forward-thinking strategies.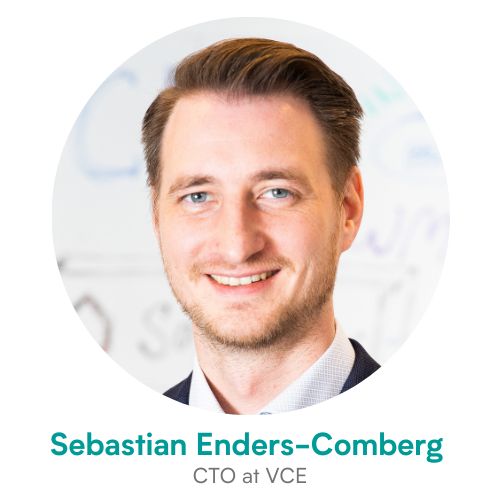 What advantages does integrating Actindo with your software offer for optimizing omnichannel strategies?
Integrating Actindo with our software provides a one-stop-shopping for multi-carrier integration. This enables brands, retailers, and manufacturers to switch seamlessly between courier, express, and parcel, less-than-truckload (LTL), and full truckload (FTL) carriers. This integration offers full control and transparency over transport costs and carrier invoices, streamlining the logistics process and enhancing efficiency."
What are the significant e-commerce trends currently influencing logistics and consulting?
Sustainability is a growing concern among consumers, who are increasingly seeking to reduce their CO2 footprint without sacrificing convenience or quality. Carriers are responding to this demand, and we've incorporated a CO2 prediction feature into our algorithm to identify the most suitable carrier for each customer, balancing efficiency and environmental impact.
Can you highlight a recent industry development that has captured your attention?
The entrance of new carriers in the German market with a PostBox-first delivery approach is particularly intriguing. This model has seen success in other European countries, and we're excited to support these carriers on our platform, offering more choices and flexibility for our users.
How do you see the future of composable commerce evolving in the next years, and how can retailers prepare for it?
Composable commerce is set to revolutionize retail in the next few years by providing increased agility, hyper-personalization, seamless omnichannel experiences, and enhanced ecosystem collaboration. Retailers can stay ahead by embracing modularity, investing in robust data and analytics, fostering collaboration, and always putting the customer experience first.
---------------------
Join us for an in-depth conversation in our upcoming Digital Synergy Session with VCE Solutions on November 29, where we'll dive into the strategic innovations driving e-commerce logistics today.

>> Digital Synergy Sessions (German only) <<