Maria is a content manager at Actindo and writes on her favorite topics about software, tools and technological change. As a tech enthusiast, she aims to make digital transformation simple to understand.
As supply chains become more globalized, retailers and brands rely heavily on efficient collaboration between partners, suppliers and marketplaces. In this complex network of relationships, efficient data exchange becomes paramount. With the enormous amount of data generated by e-commerce, the use of modern solutions like Electronic Data Interchange (EDI) plays a crucial role here for seamless communication, process automation and improved data visibility.

In this article. we'll examine how the use of EDI in e-commerce leads to significant cost savings and, in combination with a Digital Operations Platform, offers a comprehensive solution for optimizing your business processes.
Sign up for Actindo's weekly newsletter:
What is Electronic Data Interchange?
EDI is a technology that enables the electronic exchange of business documents and information between trading partners in a standardized format.

In the context of e-commerce, EDI facilitates the seamless transfer of data such as purchase orders, invoices and shipping notifications. Companies can use EDI to automate manual processes and paper-based communications, which can significantly improve the speed and efficiency of business processes.

Simply put, EDI enables the exchange of sales-related business documents between companies.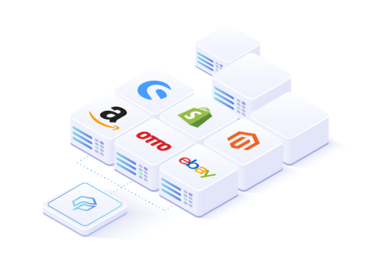 The numbers speak for themselves: A study by GS1 US found that companies which implement EDI can save up to 40% on procurement, order processing and invoice processing costs.

The global market for EDI software is also booming and is expected to reach $2.17 billion by 2028, growing at a compound annual growth rate (CAGR) of 11.31% from 2022 to 2028. Increasing adoption of EDI in e-commerce is one of the major reasons for this growth.

Uses of EDI in E-commerce
In technical terms, EDI is an IT application for digitizing trade processes. However, it's more about the transmission of documents and less about the actual buying and selling process.

"Today, there's a lot of dropshipping, where the customer buys from the retailer's online store, but the shipping is done by the supplier. The retailer acts like Amazon, but never has the goods in hand. Without electronic processes, it is simply not feasible to achieve this level of efficiency," explains Philipp Liegl, Managing Director at Ecosio in the EDI Insights Podcast, Episode 6.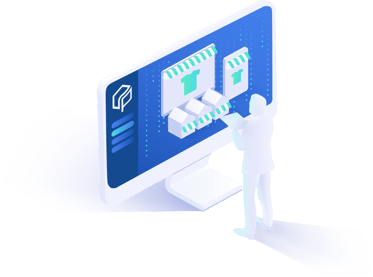 One example of EDI in e-commerce is Amazon. The marketplace giant relies on EDI to exchange delivery data and inventory information with its numerous merchants.
Retailers, in turn, use advanced EDI systems to collect and process order data directly from marketplaces and their own stores, while their e-commerce website provides a complete shopping experience for end customers - including a front-end store with many other features.

This makes the combination of EDI systems with e-commerce web stores an ideal solution for covering all aspects of modern retailing and ensuring a seamless, efficient and customer-focused shopping experience.

Benefits of EDI in E-commerce
The main benefits of Electronic Data Interchange are the elimination of outdated, paper-based processes and user-centricity. Here are some of the key features that EDI software solutions provide for e-commerce:
Standardized and automated data formats: EDI uses standardized data formats to ensure consistent data structures. This eliminates the need to manually reformat data.
Increased efficiency and speed: Processes such as order placement, confirmation, shipment tracking and invoicing can be completed faster and more accurately, and the order and payment cycle is significantly accelerated. This, in turn, shortens delivery time by eliminating the need for regular processing.
Improved supply chain collaboration: EDI promotes efficient communication and collaboration between all trading partners. Companies can respond faster because all processes are synchronized with the partners' system.
Error reduction and data quality: Through automated data exchange, EDI improves data quality and reduces payment errors or those caused by manual data entry.
Scalability and flexibility: EDI provides scalability and flexibility to accommodate growing e-commerce activities. Because it's a standardized process, EDI can be easily extended to a larger number of partners and marketplaces, supporting the growth and expansion of e-commerce businesses.
Regulatory compliance: EDI helps companies meet regulatory requirements through secure and structured data transmission.
If you want to realize the full potential of EDI in e-commerce, you should rely on a modern IT solution and use Composable Commerce. A modular Digital Operations Platform based on proven MACH architecture enables you to deploy a more efficient EDI system - even in the most complex global supply chains.

>> Learn how Composable Commerce helps you to build scalable and competitive e-commerce platforms <<
EDI Integrations with Actindo Core1
The Actindo Core 1 platform provides a comprehensive solution to the challenges of e-commerce data management, and partner and marketplace integrations. Thanks to its modular, headless architecture based on an API-first approach, the Core1 platform can be quickly and flexibly extended with desired applications and functions depending on your individual needs.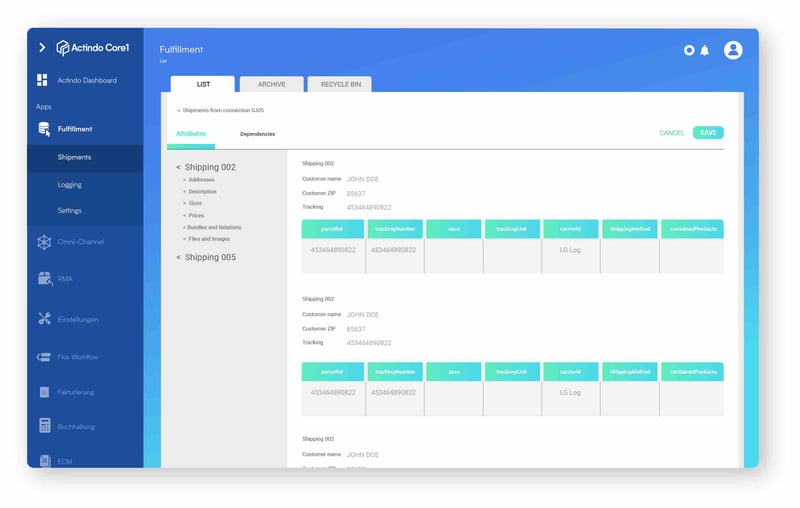 "Every EDI standard can be configured as an export and import in Actindo. The orchestration of data is done by automated workflows that are individually stored in the system," says Andreas Knettel, Implementation Specialist and Project Manager at Actindo.

Orders received via the EDI system can be seamlessly processed in the central DataHub to update product availability, generate order confirmations and trigger order processing.

Automatic, accurate and consistent transfer of product information between all trading partners relieves you and your team from manual data entry and minimizes errors. In addition, real-time inventory updates based on EDI data enables accurate inventory management and avoids overselling or out-of-stocks.

"EDI is essential in trading with corporations. Automated demand transmission from trading partners and invoicing, which can be implemented with the help of Actindo in combination with SAP B1, is advantageous." adds Andreas Knettel.

By integrating EDI into Core1, you can also handle larger transaction volumes efficiently and expand flexibly into new markets. New trading partners can be seamlessly integrated and larger order volumes can be handled without compromising accuracy or productivity.

"Managing multiple software vendors and orchestrating data, microservices and functions between them can be a major barrier to digital transformation and the transition to a Composable Enterprise. At Actindo, our mission is to enable sophisticated transactional business models across retail, e-commerce and desktop. We provide the single source of truth for Composable Commerce, and enable the governance of customer-centric experiences in the Unified Commerce era."