Customer expectations are rising, market requirements are continuously changing and companies need to adapt to remain successful: Legacy systems no longer represent a contemporary solution, as they are inflexible and no longer adequately map modern workflows. So a new, innovative and flexible generation of enterprise software is needed: the Digital Operations Platform.
DOP replaces ERP: When your old ERP does more work than it does for you
Over time, companies have adopted many different solutions to best digitize and manage their operations. These solutions include enterprise resource planning (ERP), order management systems, customer relationship management solutions (CRM), warehouse management systems and many more.
However, market requirements are rapidly evolving and as a result, many companies today have a wide range of systems, from monolithic ERP to various stand-alone solutions, which are linked by fragile point-to-point connections and do not communicate properly with each other. Employees have to switch between different systems, data silos are created and they cannot work efficiently. In addition, it costs a lot of valuable time and money to keep all these different software components up to date.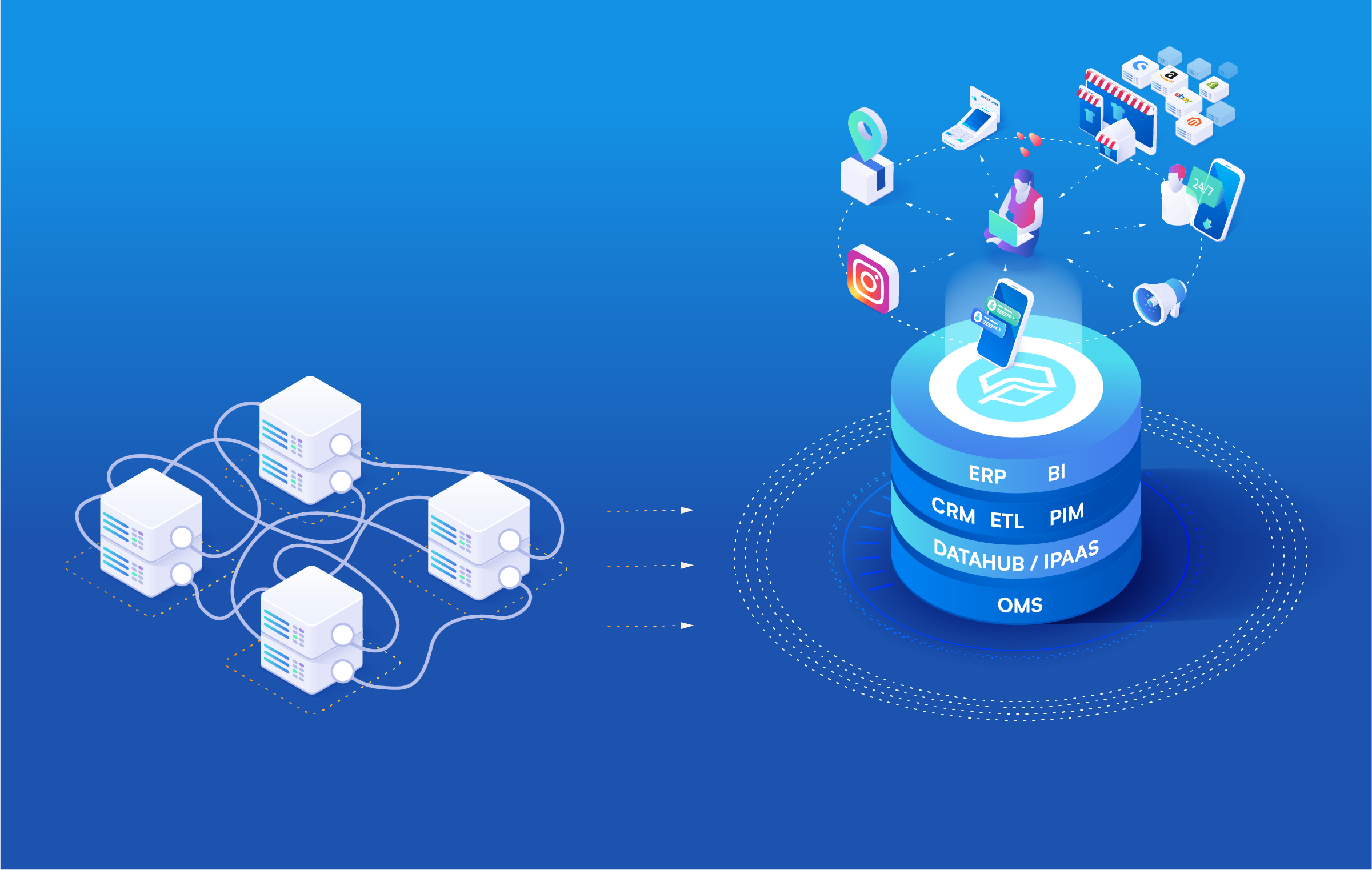 Gartner analysts state, "By 2025, more than 70% of large enterprises will move from a single-vendor monolithic ERP strategy to a more inclusive composable strategy. "1
Modern enterprises need flexible and adaptable enterprise platforms to meet customer expectations for speed and consistent information. The trend is therefore away from rigid legacy systems to modular and flexible Digital Operations Platform.
What is a Digital Operations Platform (DOP)?
A Digital Operations Platform is the core of your business operations: it enables you to centrally manage all key processes and touchpoints to create a better customer experience. It brings together automation and workflows, offering tremendous relief and time savings in day-to-day operations.
Business processes are simplified and unified: From product data, purchasing and inventory to customer management and business intelligence, everything your company needs is made available centrally in one place. With a Digital Operations Platform, workflows are merged, back-office activities are unified, and existing systems are integrated so you can focus on what matters most: Your customers.
A Digital Operations Platform provides:
A central core software for all business processes
Integrated ERP features, such as product data management, order management, warehouse management or POS integration in one place
Time and resource savings through automation of key workflows
A cross-area networking of all system worlds and touchpoints for a better customer experience
A flexible and scalable service that keeps you fit for the future
Overview and tracking of all relevant processes and KPIs in real time at a glance


The benefits of a Digital Operations Platform
Moving to a modern Digital Operations Platform helps companies realize their full potential in various areas and increase efficiency.
Improved Customer Experience
A smart DOP forms the basis for an improved customer experience at all touchpoints. For example, it enables simplified CRM, accurate and consistent information across all channels, hassle-free offering of various payment and shipping options, and fast processing of orders and returns.
Increase productivity
Many manual workflows also cost a lot of time. By automating these workflows, employees can focus on what's important and thus work more productively. A centralized platform also breaks down data silos between departments and facilitates collaboration.
Data-driven decisions
With a DOP, you have all data from all sales channels collected in one place. Business intelligence features allow you to perform individual analyses and reporting in seconds and keep an eye on all business activities. The guessing game is over - you can always make your decisions based on current data.
Simple integration options
Companies often already have a historically grown system landscape. A DOP enables the simple integration of (legacy) systems without completely replacing them and thus paralyzing ongoing operations. All external marketplaces, payment, shipping and fulfillment providers or other external tools and service providers can be connected just as easily.
The right choice for rapid growth
Every company has its own unique requirements and strategies. No matter what stage of development your company is in or what goals you are pursuing, a DOP can be adapted to specific needs, grows flexibly with you and thus supports you in successfully scaling your business activities. Even very rapid business growth can be easily managed. A Digital Operations Platform provides the necessary boost for your company's growth, whether you want to efficiently conduct digital commerce, successfully modernize existing systems, or exploit entirely new revenue potential.
Large and medium-sized companies in particular benefit from the powerful features of a DOP due to their company size and higher order volumes. It doesn't matter whether you are in B2C, B2B, wholesale or manufacturing - a DOP helps you reach your customers where you want them to be.
Unified Commerce with Actindo's Digital Operations Platform
At Actindo, we've long recognized the move towards flexible and integrative systems, and with our Actindo Core1 platform, we offer an innovative end-to-end digital commerce solution that makes your workflows more efficient and enables modern unified commerce - in record time in the middle of your operations. Our cloud-based Digital Operations Platform enables you to connect and centrally manage all business processes, touchpoints and system worlds. This ensures a smooth flow of data through your entire IT ecosystem. This means that nothing stands in the way of a uniform shopping experience in the sense of unified commerce.
1 Gartner, Predicts 2021: Time to Compose an ERP Strategy to Outpace Disruption, Denis Torii, Dixie John, Duy Nguyen, Tim Faith, Paul Schenck, 4 December 2020