Maria is a content manager at Actindo and writes on her favorite topics about software, tools and technological change. As a tech enthusiast, she aims to make digital transformation simple to understand.
Ismaning, September 25, 2023 - Actindo, an award-winning digital operations platform (DOP) for e-commerce and digital transformation, is expanding its implementation partner network with KPS, a leading customer-centric business transformation consultancy. The partnership will offer customers a comprehensive range of powerful, flexible and scalable solutions for next-generation digital commerce.
"By partnering with KPS, it's now possible to make the solution offering accessible to new groups of customers," said Marcel Siebein, Director of Partnerships and Alliances at Actindo.
"For companies with complex, operational processes, this means they can centralize and automate them. As a result, they achieve greater transparency and increase customer satisfaction through a more consistent customer experience and more efficient processes."
Sign up for Actindo's weekly newsletter:
Synergy through Integration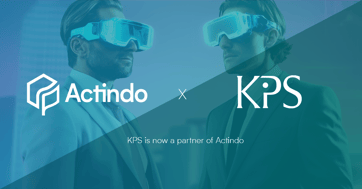 The partnership will integrate the Actindo Core1 e-commerce platform, based on MACH principles (Microservices, API-first, Cloud-native, Headless), with the high implementation quality of KPS.
This pairing gives retailers, brands and manufacturers the freedom to customize their IT infrastructure to fit their business model and design outstanding customer experiences that truly resonate - regardless of company size.

"The future is composable. In a rapidly changing world, businesses depend on being able to act and react quickly," added Markus Wilhelm, Managing Partner CX at KPS.
"A flexible composable commerce architecture, such as Actindo supports with its DOP, is therefore an asset for our customers. It allows us to create a consumer experience that is second to none. At the same time, we thereby achieve a central customer view in the sense of contemporary unified commerce."
Scope of Partnership
Together with its customers, KPS is continuously driving the acceleration of digital transformation and is already shaping the world of tomorrow with a holistic view: smart best-practice processes and outstanding customer experience along the entire value chain, from individual customer interaction through the supply chain and core operational business to finance.
As part of the partnership with Actindo, KPS supports customers through consulting and implementation services in the implementation of customer experience solutions, tailored personalization strategies and with a versatile portfolio of building blocks for a composable commerce platform. This creates the conditions for customers to sustainably operate and further develop their digitization strategy.