Maria is a content manager at Actindo and writes on her favorite topics about software, tools and technological change. As a tech enthusiast, she aims to make digital transformation simple to understand.
As customer expectations soar and the lines between online and offline shopping blur, retailers specializing in service-intensive industries are grappling with the challenge of delivering a seamless, personalized shopping experience across all channels.
The solution lies in a modular and scalable Digital Operations Platform that acts as a central system integrating all sales channels and customer data to create a seamless and efficient shopping experience.
Sign up for Actindo's weekly newsletter:
Challenges

of

Service-Intensive P

roducts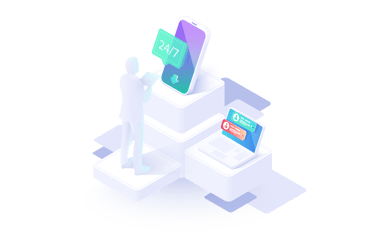 In service-intensive industries such as bicycles, furniture, fitness equipment and healthcare products, the customer journey often extends well beyond the online shopping cart. Often, these products require individual personalization, a visit to a physical store, and intensive after-sales services. Especially in these cases, the individual sales channels do not run in parallel, but are closely interlinked.
Whether it's customizing a new bike, personalizing a piece of furniture, setting up fitness equipment, or fitting glasses or hearing aids: personal interactions are critical to customer satisfaction and loyalty. Fragmented data prevents a holistic view of the individual customer and slows companies down in designing personalized shopping experiences. Read more in our guide to improving the post-purchase experience.
However, increased customer demands and ever-increasing competitive pressures pose a complex question for retailers and brands: how can they bridge the gap between online and offline channels to offer a truly seamless shopping experience? The key lies in the unified commerce approach, which enables a seamless customer journey without compromising autonomy or convenience.
Flexible, Agile and Modular - the Success Factors in Unified Commerce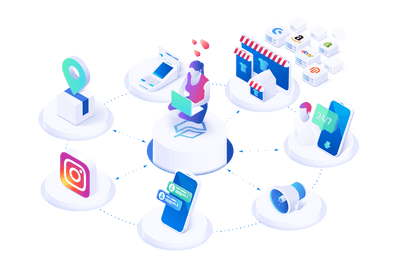 In order to implement unified commerce efficiently and successfully, and to guarantee your customers an all-around positive customer experience, what is needed above all is a flexible and modular IT ecosystem.
This is where a Digital Operations Platform (DOP) comes into play. It's the heart of a company and offers decisive advantages in digital commerce.
A Digital Operations Platform (DOP) serves as a unifying hub, integrating various channels, applications, and systems to streamline operations, boost efficiency, and elevate the customer experience. It is the bridge that connects the online and offline worlds, enabling companies to offer a seamless omnichannel experience.
>> Learn more about Digital Operations Platforms in our detailed guide <<
Actindo Core1 Unites Online and Offline Ccommerce
Actindo Core1 supports retailers and brands in the area of service-intensive products primarily through its integrated point-of-sales solutions and appointment functions. This unique combination enables companies to effectively integrate their online stores with their local stores.
Customers have the flexibility to research and buy products either from their own online store or affiliated marketplaces, and can then easily schedule in-store appointments for personalized services. All data streams, such as customer data and personalization requests, are standardized from various sources and sales channels and bundled centrally in the DataHub.
In the process, all data communicates seamlessly with each other and is available to your team transparently and in real time in one place, thus enabling a personalized shopping experience for your customers. Thanks to the omni-channel module, both web stores and all relevant marketplaces can be directly connected to the platform and centrally controlled from there.
In addition, Actindo gives companies full visibility and control over the after-sales service process, ensuring that every customer interaction, whether online or offline, is tracked and optimized.
Benefits of Actindo Core1
Actindo Core1 empowers your business to achieve its fullest potential, offering key advantages especially for products that require intensive consultation, such as:
Address data fragmentation: A centralized data hub provides a holistic view of the customer and improves personalization.
Avoid channel conflict: Seamlessly integrating online and offline channels avoids conflicts and creates a consistent omnichannel experience.
Improve after-sales processes: Specialized scheduling and service capabilities facilitate the integration of complex services into the customer experience.
Conserve resources: Automation tools enable efficient implementation of the unified commerce approach, even for smaller retailers.
Meet customer needs: Actindo Core1 enables personalized customer experiences across all channels, increasing customer satisfaction.
Overcome technology limitations: Modern architecture and integration capabilities provide the flexibility needed to overcome technology challenges.
Make informed decisions: Complete visibility and control over business data enables data-driven decision making.
Success
Stories:
Actindo
Core1 in Practice
Our customers have been able to partner with Actindo to create seamless unified commerce experiences that are also groundbreaking for retailers in service-oriented industries:
Braun Büffel: The leading leather manufacturer and renowned leather accessories brand Braun Büffel can manage its inventory in real time thanks to its partnership with Actindo. This is particularly relevant for retailers with service-intensive products, where product availability and condition are critical to customer service. READ THE BRAUN BÜFFEL CASE STUDY
Kapten & Son: The renowned lifestyle brand Kapten & Son also benefits from Actindo's multi-channel management. The platform enables the company to create a unified brand experience, both online and in physical stores. READ THE KAPTEN & SON CASE STUDY
Alpha Trading Solutions and Fooody4u: Other success stories come from Alpha Trading Solutions, a distributor of entertainment products, and Fooody4u, an e-commerce subsidiary of traditional manufacturer Coppenrath Feingebäck. Actindo Core1 handles all ERP processes such as accounting, invoicing, purchasing, warehousing and shipping in a single central system. READ THE ALPHA TRADING CASE STUDY
In addition, Actindo enables companies to make rapid implementations such as social selling via Google, Facebook and Instagram, allowing them to respond flexibly to new market demands. The platform automates and orchestrates all processes and connects the existing Legacy IT systems with the new, modern systems. READ THE FOOODY4U CASE STUDY
Bridging

the

Gap

Between

Online and Offline:

Actindo

Core1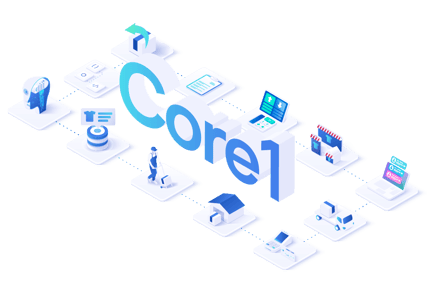 With Actindo Core1, businesses can successfully navigate the complexities of unified commerce and deliver a truly omnichannel experience.
It is a modular, MACH-based platform (microservices, API-first, cloud-native and headless) that centralizes all aspects of your business. From real-time inventory management to consistent brand experiences across all sales channels.
Because of its modular software architecture, Core1 is tremendously flexible and scalable in choosing best-of-breed applications. Your business can scale instantly's notice and quickly adapt to market changes, emerging trends and customer needs.
What's more, Actindo lets you connect your existing legacy IT, such as SAP, to your new IT landscape for your D2C channels, so you can modernize your system quickly and step-by-step.
Want to learn more about how Actindo can help you implement unified commerce in your business? Our experts will be happy to advise you on the benefits of building your tech stack with MACH. Schedule a free, no-obligation consultation now.
"At Actindo, we've made it our mission to enable sophisticated transactional business models beyond retail, e-commerce, and desktop and to be responsible for driving and delivering the single point of truth for composable commerce and control customer-centric experiences in the unified commerce era."