Actindo's case study with German lifestyle brand Kapten & Son has won third place in the 'E-Commerce Tools' category at the Best Retail Cases Awards 2023, hosted in Cologne, Germany earlier this week.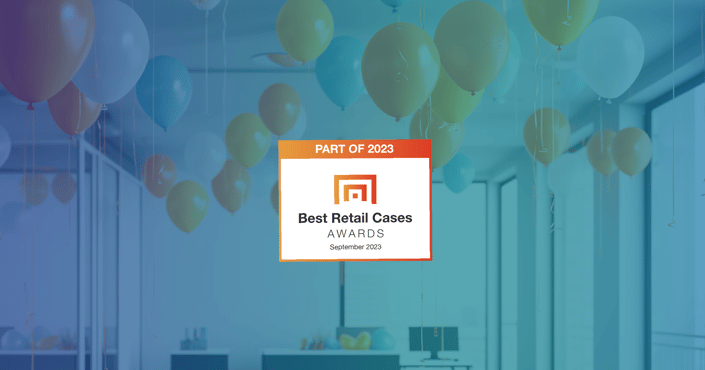 The Best Retail Cases Awards 2023
The Best Retail Cases Awards honor innovative solutions used by brands, retailers and manufacturers to meet e-commerce challenges and open up new market opportunities - for example through technologies or omnichannel solutions. The nominated cases are selected by a top-class jury, and by the users themselves via online voting.

This year's award ceremony took place at the Schokoladenfabrik venue in Cologne, where 38 retail cases already nominated online were put to the vote in various categories.

Actindo used a customer example with Kapten & Son to present its Digital Operations Platform, Actindo Core1, and convincingly won third place in the category "E-Commerce Tool".
How Kapten & Son responds quickly to market demands with a flexible, microservices-based architecture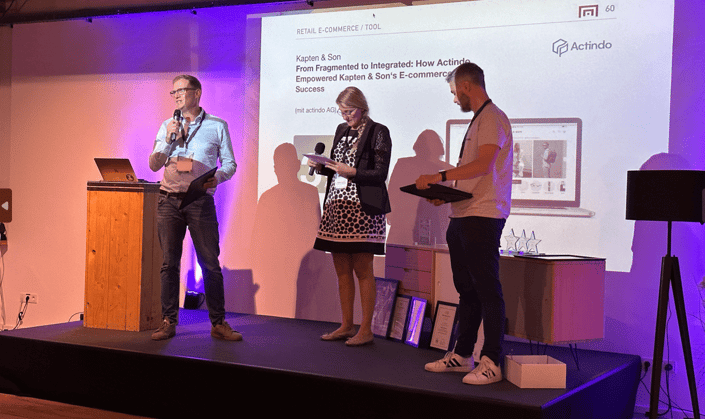 Sven März, VP Sales at Actindo, accepts the award (Credit: Fatou Hoffmann)
Kapten & Son, one of the fastest-growing fashion brands in Europe, found itself increasingly hindered by a fragmented IT landscape. Which is why it turned to Actindo in 2022 to implement a comprehensive project to renew its processes and IT architecture, using the Actindo Core1 digital operations platform.

With Actindo's IT solution, Kapten & Son can rely upon a fast-to-implement, scalable and highly flexible e-commerce platform. The lifestyle brand can now efficiently orchestrate its omnichannel strategy and enjoy significant productivity gains. These include:
23% productivity increase for customer service team
100% increase in order volume capacity, and up to 1,000% during peak periods such as Cyber Week
Actindo accompanied Kapten & Son in all phases of project implementation, and comprehensively contributed its many years of expertise from conception to implementation. The project was completed in just 9 weeks, without compromising the customer experience.
>> Learn more in our Case Study <<
Actindo Core1: The world's most flexible platform for omnichannel success
With over 15 years of experience in the market, Actindo is a global leader and pioneer in developing Digital Operations Platform technology for e-commerce. The Actindo Core1 platform empowers businesses to drive revenue and maximize customer satisfaction across all channels.

The platform brings together the building blocks of composable commerce to transform and efficiently set up digital business models. The API-first and MACH-certified technology enables comprehensive data integration and efficient order management to create outstanding digital experiences across all channels.
As a result, we have already been able to accompany numerous customers such as Alpha Trading Solutions and Fooody4u in their digital transformation - see our current customers.
"We're proud that Actindo is instrumental in the growth and success of Kapten & Son. Our MACH-certified platform provides the necessary infrastructure to support the hyper-growth phase, orchestrate all business processes and deliver a world-class customer experience.
"Kapten & Son benefits from higher productivity and deep, transparent insight into all processes thanks to Actindo Core1." - Boris Krstic, CEO of Actindo