James is a veteran tech writer, having previously covered the global telecoms & media landscape for nearly a decade. In his downtime, he enjoys all manner of outdoor sports, cooking and learning German.
Composable order management is revolutionizing the way businesses handle orders. It allows them to use modular, flexible components to handle discrete needs like inventory management, payment processing, shipping and more.
In a world of unified shopping experiences and lofty customer expectations, composable order management helps brands and retailers ensure that their fulfillment stack is fit-for-purpose and future-proof.
Sound familiar? That's because MACH (Microservices, API-first, Cloud-native, and Headless) solutions align perfectly with this approach. But you'll need an orchestration layer to get it all singing in harmony. Let's take a look...
Sign up for our weekly newsletter:
Efficient order management = a win-win-win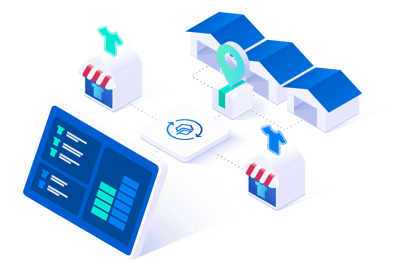 First of all, a recap – why would you want a composable order management system in the first place? Well, the world of retail has changed dramatically in the past decade.
Consumers now expect fast, accurate unified experiences with "one voice" communication from their preferred brands. And they're willing to pay a premium for it.
Whether hunting up that perfect rug on a mobile shopping app, idling on Insta or doing it the "old-fashioned way" in a bricks-and-mortar store, brands and retailers need to embrace a unified commerce approach and provide a consistent and connected experience across all channels and touchpoints.
In fact, a 2021 study by McKinsey & Company for the US Retail Industry Leaders Association (RILA) found that over two-thirds of the retail execs surveyed see the growth of omnichannel and digital shopping as the biggest trend affecting the industry – but also its biggest challenge.
And when you strive to offer unified experiences (managed by a single source of truth across all channels), it becomes even more challenging still...
>> Read our guide to Composable Commerce <<
For their part, retailers must ensure that they have enough stock to meet fluctuating demand ("availability to promise"), know where that stock is (whether in a warehouse or in-store), then sell it efficiently, take payment, dispatch and track orders, handle returns. And as order volumes scale up, so do the logistical challenges involved in fulfilling them.
In a recent MACH Alliance webinar, OneStock CEO Romulus Grigoras declared: "An efficient order management system is a win-win for everyone. It's convenience for the customer, it's profitability for the retailer, and it's also sustainable operations for green commerce."
In other words, a sophisticated order management system (OMS) will delight your customers while controlling costs and providing pinpoint visibility into your inventory. And without any unnecessary waste.
According to Maia Benson, Managing Director of Forum Ventures and webinar host: "Order management is the heart of omnichannel commerce."
Meet the friendlier, plug-and-play route to order management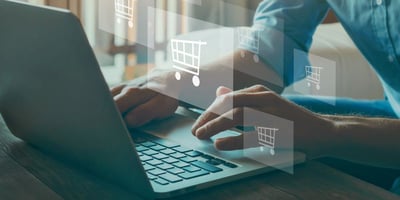 So it's clear that a sophisticated order management system is needed to meet the growing challenges of unified commerce. But why does it need to be composable?
The simple truth is that it's really hard, slow and expensive to change an on-premise ERP - and these legacy solutions might be overkill for your needs anyway. Much better to take a best-of-breed approach.
"There are many options now in a composable environment where you can build out those components that are much more plugged in, much more friendly, than having to go via a customization of the ERP," says Graham Jackson, CEO of Fluent Commerce.
Given that unified commerce was estimated in a 2023 study from Google Cloud and others to drive a 3-6x increase in annual revenue growth, the financial advantages can really stack up here.
Especially when you factor in the ongoing shift from on-premises order management systems to modern, composable SaaS solutions – a trend which is widely expected to continue through the next few years.
"The cost of not selling the majority of your inventory at full price is significantly higher than that of a system change," adds Stephan Schambach, Founder and CEO of NewStore.
If you take the composable route, you can pick the specific capabilities that you need and that will be cheaper than a full OMS.
Lightweight, composable solutions are quick to deploy, connect to all the systems, the point of sale, marketplaces, warehouses, systems of record, and can have workflows ready to go in a matter of weeks.
"That's what we call order operations, which is not a full OMS," says Mo Afshar, CEO of Pipe17. "Order operations to us is a collection of capabilities that orchestrate 'order to anywhere' flows between various software platforms, selling, fulfilment, back office, all working together."
>> Read our guide to ERP for E-Commerce <<
Picking up the conductor's baton with Actindo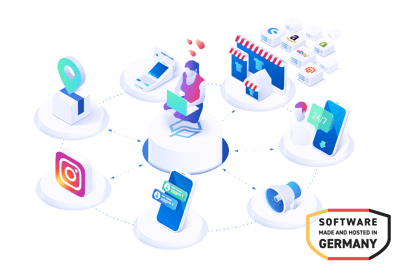 Once you've decided to leverage composable order management solutions to deliver unified commerce experiences, an orchestration layer will manage the interactions between the various components described above.
It's the crucial conductor that avoids a common pitfall of interconnecting systems using API-based integrations alone: that the slowest part of a system defines overall performance of the whole (see Gartner's PACE-layered application layer strategy for more on this topic).
Order orchestration has been around for a while, providing vital information on forward and backward planning, and automating several functions like order routing, order splitting, shipping, inventory forecasting and reordering.
When combined with MACH solutions, an orchestration layer goes further and delivers seamless communication, scalability, customization, error handling, analytics and more. To foster a business application strategy that accelerates innovation, without sacrificing integration, integrity or governance.
It integrates the different microservices involved; uses APIs to ensure that data flows smoothly; interfaces between Headless components, for a tailored customer experience; detects and corrects handling errors in real-time; and ensures that the customer journey is tailored, smooth and satisfying.
A Digital Operations Platform like Actindo Core1 can help here. Our Process Orchestration module allows brands and retailers to sculpt, control, map and monitor their business processes. As a result, you will always have an overview of your business processes, and can correct errors quickly and efficiently.
"We at Actindo have made it our mission to enable sophisticated transactional business models across and beyond retail, e-commerce, and desktop. Actindo is responsible for driving and delivering the single point of truth for composable commerce and delivering customer-centric experiences in the unified commerce era."
- Boris Krstic, Co-Founder & CEO at Actindo.