Maria is a content manager at Actindo and writes on her favorite topics about software, tools and technological change. As a tech enthusiast, she aims to make digital transformation simple to understand.
The United Arab Emirates (UAE) and the metropolis of Dubai are currently seeing an explosion in the e-commerce sector and online marketplaces. As affluent local consumers gravitate ever more towards online purchases, the region has become a hotspot for online commerce. In this context, digital marketplaces and niche marketplaces are becoming increasingly important.

In this article, we'll look at some of the top online marketplaces in the UAE and Dubai that help brands, retailers and manufacturers to sell products online in their respective niche.
Want more articles like this? Sign up for Actindo's weekly newsletter:



Trends in E-Commerce in the UAE and Dubai
Although Dubai is still strongly characterized by traditional offline retail, the e-commerce market in the UAE has undergone an impressive transformation in recent years. This is mainly driven by the demand for online shopping from a young, tech-savvy population.

The relevance of e-commerce has never been more evident in the UAE. The latest statistics illustrate this shift:

By 2023, e-commerce in the UAE is expected to account for more than 15 percent of total retail sales with a projected US$ 10,205.5 million.
With an expected annual growth rate of 7.7 percent, e-commerce sales are expected to increase to 13.7bn US dollars by 2027.

Younger consumers under the age of 34 are a key driver of online purchasing behavior, and account for 73 percent of all online transactions.

Shoppers in Dubai are among the most connected in the world, with an internet penetration rate of 99 percent. Smartphone and social media penetration rates are 98 percent and 99 percent respectively.

The amount spent per online purchase in Dubai is the highest in the world at USD 332, well above the European average of USD 73.
These developments point to a clear and positive dynamic in online retail in the UAE and Dubai. Global competition and technological innovations, such as artificial intelligence, will continue to support this development in the future. We explain how large language models will influence e-commerce in our detailed guide.

Digital marketplaces play a key role in this digital upswing. They offer both local and international retailers and brands the opportunity to tap into a larger customer base and market their products effectively.
Differences Between Horizontal and Vertical Marketplaces
Horizontal marketplaces are characterized by their wide range of products from different categories.
The best-known examples include Amazon.ae and Noon.com, which offer a diverse range of products from electronics and clothing to food.

Parallel to the big well-known marketplaces, more and more vertical niche marketplaces are emerging that specialize in certain product segments or customer groups.
These offer specialized retailers the opportunity to cater specifically to customer wishes and differentiate themselves in a densely populated market. A striking example of this is Mumzworld.com, a marketplace that successfully focuses on products for mothers and their babies.

>> Read here how to sell successfully on niche marketplaces <<
Best-Selling Products in the UAE
The UAE is characterized by a diverse consumer base. Fashion is the dominant segment and represents the largest share of e-commerce sales in the UAE with a market share of 34%. It is followed by electronics & media with 21.3 percent, toys, hobbies & DIY (Do it Yourself) with 16.6 percent, food & personal care with 14.8 percent and furniture & household appliances with 13.3 percent.

Due to the region's hot climate, there is also a high demand for bottled water and care products for babies and mothers.
11 Top Marketplaces in the UAE
Now we know why online marketplaces are rising fast in the UAE. Let's look at a selection of the most popular ones:
1. SharafDg.com

Source: www.SharafDg.com
Sharaf DG, originally known as an electronics retailer, has evolved into a comprehensive online marketplace with SharafDg.com.
The platform offers a wide range of electronics products as well as household goods, fashion and more. With its commitment to quality and customer service, SharafDg.com has positioned itself as one of the leading electronics marketplaces in the UAE.
2. Facebook Marketplace Dubai


Source: www.facebook.ae
From furniture to electronics to real estate, Facebook Marketplace has established itself as a popular platform for buying and selling second-hand goods in Dubai and the local community.
3. Amazon.ae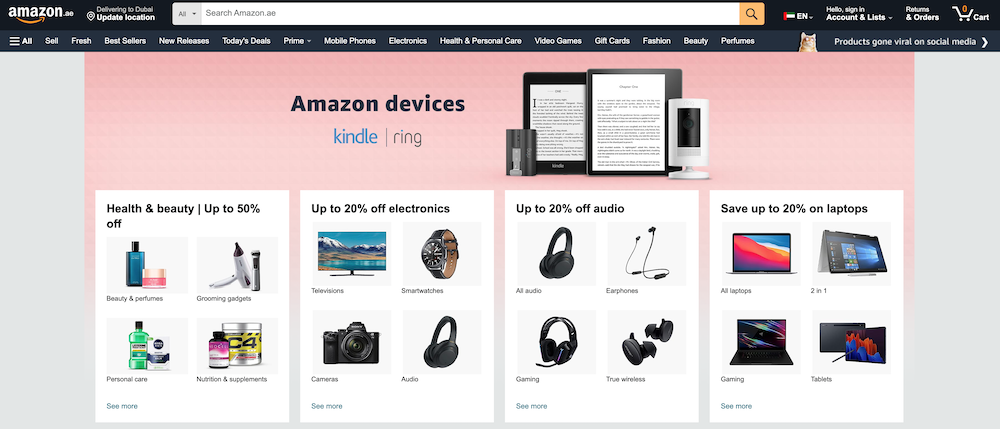 Source: www.amazon.ae
Amazon.ae is the UAE version of the global marketplace Amazon. It offers a wide range of products from various categories and has made a name for itself with its seamless customer service and fast delivery options.
For merchants, Amazon.ae offers the opportunity to showcase their products to a wide audience across the UAE.
4. Noon.com


Source: www.noon.com
Noon is a prominent online marketplace in the UAE and offers a variety of products from different categories.
With a large customer base and thousands of sellers on its platform, Noon has become a trusted e-commerce platform in the region, known for its fast delivery times and exclusive offers.
5. Dubaistore.com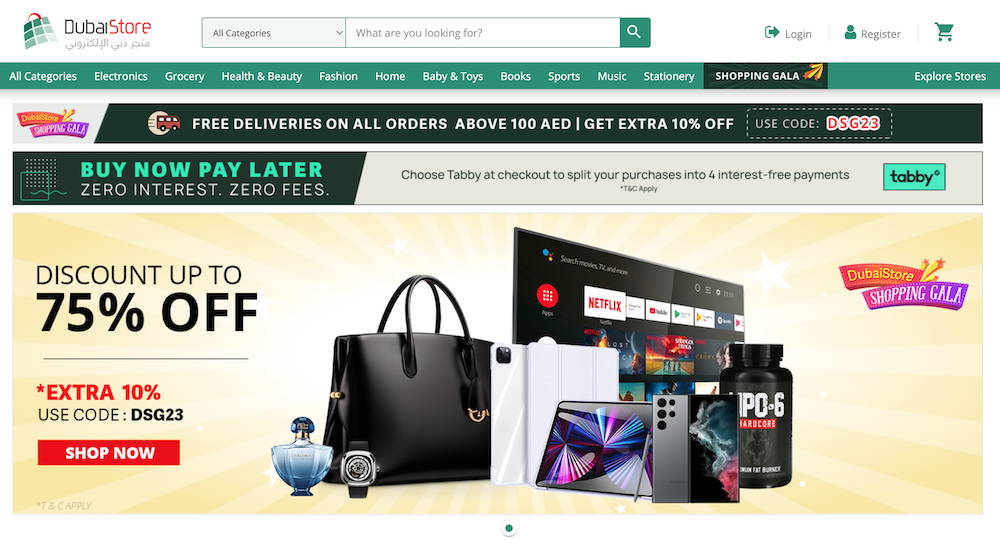 Source: www.dubaistore.com

Dubaistore.com is a Dubai Economy initiative and aims to provide a platform for small and medium enterprises to sell their products online.
It offers a wide range of products and guarantees the authenticity of the items sold on its platform. With a strong emphasis on supporting local businesses, Dubaistore.com has established itself as the preferred platform for many retailers in the UAE.
6. Mumzworld.com


Source: www.mumzworld.com

Mumzworld.com has established itself as the leading marketplace for products related to mothers and babies in the UAE and the Middle East.
From baby clothes to toys and care products, Mumzworld offers a comprehensive selection tailored specifically to the needs of mothers and their children.

7. LetsTango.com



Source: www.letstango.com

The e-commerce marketplace LetsTango.com offers a wide range of products, from electronics to fashion items.
With a variety of payment methods and dedicated customer service, LetsTango has established itself as a trusted e-commerce platform in the UAE.
8. Carrefouruae.com



Source: www.carrefouruae.com

Carrefour, a world-renowned retail chain, is creating a comprehensive online shopping experience for customers in the UAE with Carrefouruae.com. With a range of over 500,000 food and non-food items, Carrefour has established itself as one of the top online supermarkets in the region.

Are you active in the food & beverage sector and looking to optimize your omnichannel strategies and fulfillment processes? Our Food & Beverage Checklist: Omnichannel Sales & Fulfillment provides you with the ideal basis for improving your fulfillment process and customer loyalty.

9. Dragonmart.ae


Source: www.dragonmart.ae
Dragonmart.ae is the online version of the famous Dragon Mart outlet in Dubai. It offers a wide range of lifestyle products, including household goods, fashion and electronics.
The platform is particularly popular with bargain hunters and often offers products at lower prices than other marketplaces.
10. Luluwebstore.com


Source: www.luluwebstore.com
Luluwebstore.com is the online arm of the well-known Lulu hypermarket chain. The platform offers a wide range of products, from groceries to electronics and household goods.
With regular offers and discounts, Luluwebstore has established itself as a popular choice for online shoppers.
11. Groupon.ae


Source: www.groupon.ae

Groupon.ae is known for its daily deals and offers in the UAE. From restaurant vouchers to spa treatments and travel deals, Groupon offers consumers the opportunity to enjoy services and experiences at a fraction of the original price.
E-commerce Across All Channels with Composable Commerce
The e-commerce landscape in the UAE is diverse and highly competitive. With a high penetration rate of social media and smartphones, consumers here are among the most connected in the world.
Seamless shopping experiences across various touchpoints and sales channels such as Amazon, Instagram, TikTok and others are crucial to the success or failure of the online presence in the UAE.

Above all, the shopping experience must be fast, flexible and heavily dependent on real-time data across multiple channels to meet shoppers' ambitions and expectations. A modern composable commerce strategy is essential to keep pace with ever-changing consumer expectations.
>> Learn more about the benefits of a digital operations platform for e-commerce <<
Actindo Core1 for optimal commerce processes
Actindo Core1 is a powerful platform specifically designed to meet the needs of modern omnichannel commerce. As the world's most flexible and MACH-certified Digital Operations Platform (DOP), Actindo Core1 enables retailers and brands in the UAE to adapt to market dynamics and scale quickly.

Actindo Core1's omnichannel module and process orchestration streamlines complex operations and saves valuable resources. Create customizable workflows for complex omnichannel orders and standardize, manage and automate your retail processes.

The integrated DataHub with EDI function bundles all operational data in real time and in one central location. It enables the connection of any third-party software to Core1, be it third-party e-commerce applications, POS systems, CRM, 3PL or other platforms.
All previously separate data communicates seamlessly with each other and is transparently available to your team. Actindo ensures that data is consistent, up-to-date and available wherever it is needed. Potential for improvement can be identified quickly and data-based decisions can be made.
Case Study Actindo Kapten & Son
In a successful partnership with Actindo, the well-known lifestyle brand Kapten & Son was able to improve its e-commerce and omnichannel strategies. With Core1, the company can orchestrate the various sales channels and all data is consolidated in one central location. By working with Actindo, Kapten & Son optimized its business processes and can now increase order volumes by an impressive 1000 percent during peak periods.

>> Be inspired by the Kapten & Son case study <<
Summary
The UAE offers immense opportunities in the e-commerce sector. With the right platform and tools, retailers can thrive in this region. Actindo provides the technology and expertise that retailers need to succeed in the UAE.