Unified Commerce stands for a unified customer experience by using a centralized commerce platform for all customer engagement points. Within twelve months, ETERNA Mode worked with Actindo to merge its individual business processes and existing IT infrastructure into a holistic unified commerce platform that ensures a consistent shopping experience across all sales channels, putting the customer first.
ETERNA: The Market Leader for High-Quality Shirts
ETERNA is a leading European fashion company with more than 150 years of tradition: the company was founded in 1863, employs more than 1,100 people and in recent years has generated sales of around 100 million euros with shirts and blouses in the medium and upper price segments. The company has more than 5,000 stationary points of sale across Europe, while also operating 55 of its own brand stores. It also uses well-known fashion marketplaces and a B2B channel for corporate clothing.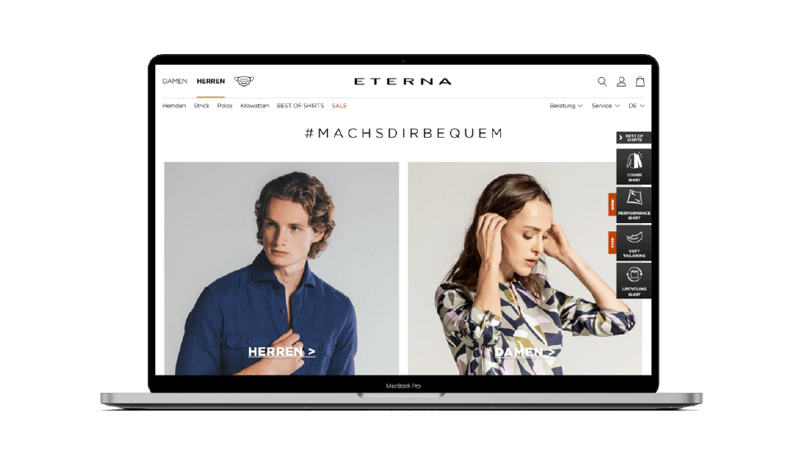 Our mission: to integrate one platform for all processes
The goal of the project was to build a complete solution consisting of web store and marketplace connections and to integrate Actindo as an e-commerce platform into the group infrastructure, consisting of SAP and AVM.
The project goals:
Centralized handling of all corporate processes for end customer support in e-commerce.
Integration of Actindo as an e-commerce platform into the group infrastructure consisting of SAP and AVM (AS/400)
Integration of the Salesforce Sales Cloud and feed of a uniform data stream from the branches
Integration of the central data hub to play out product data to all marketplaces
Implementation of the Sendit (Prologis) shipping software into the company processes
Creation of a uniform shopping experience at all touchpoints
Actindo's Core1 Digital Operations Platform serves as the basis for modernizing the existing SAP and AS/400 infrastructure for all group-wide end-customer processes and touchpoints. For example, it provides a live interface to the central warehouse inventory and allows warehouse inventories to be rolled out per marketplace via a warehouse matrix. At the middle level, the central Actindo Datahub ensures the preparation of data and processes for the connection of online channels. From here, fashion platforms such as Zalando, Amazon and Otto are automatically populated with product data.
>> Our ultimate guide to Digital Operations Platforms <<
The company's own web store also receives the product information: It was implemented with Shopware and has nine European country stores - including country-specific translations and payment options. In addition, a subshop of the master store also functions as a B2B platform and allows corporate customers to order their corporate clothing with individual logo embroidery directly online. The process of mass customization of custom-made shirts has also been incorporated into the Actindo logic. In addition, Actindo offers a PoS system as a modern and mobile checkout solution.
With Actindo's solutions and know-how, ETERNA has created an efficient platform for customer-centric unified commerce.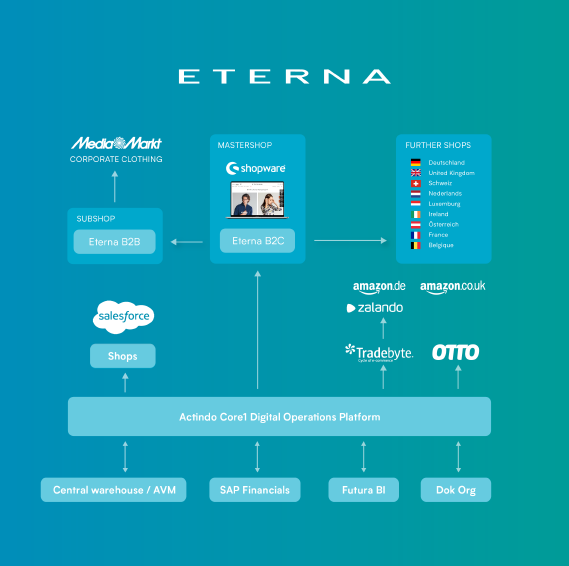 How other companies can also start the digital commerce of the future with Actindo
No two companies are the same: Specific requirements and existing IT landscapes are unique to each business. However, due to its flexibility and agility, the Actindo Core1 platform can be adapted to the needs and circumstances of any company. It supports typical ERP functions such as order management, shipping processing, warehouse management, PIM, ETL, supplier management, omni-channel orchestration, POS integration, and more. But it also builds intelligent bridges to legacy systems as well as touchpoints and seamlessly integrates them into modern e-commerce environments for efficient and flexibly scalable value creation in digital commerce.
Using loosely coupled and customizable modules, the system can be individually and flexibly tailored to specific business requirements and customer needs. Actindo Core1 fits into any commerce setup and can be seamlessly integrated into existing enterprise IT. The API-first and platform architecture enables fast and step-by-step integration without impacting day-to-day business.
Central to this are the integrated ETL & EDI functions, which enable data from a wide variety of sources to be read, processed and made available to every connected touchpoint via the central Actindo Datahub. With the Actindo PIM, product data for all sales channels and touchpoints is managed in real-time in one place - based on consistent and accurate data. Actindo's Digital Operations Platform also provides a powerful Enterprise Service Bus and Business Process Manager, giving ETERNA and other companies the flexibility and scalability they need to respond quickly and efficiently to future demands. Actindo Core1 acts as an Integration Platform as a Service and a comprehensive commerce operating system.
Actindo demonstrates that even legacy and reliable IT systems, such as SAP & AS/400, can be modernized into an efficient unified commerce environment through the use of a smart digital operations platform. As successful as ETERNA, any company can move to future-proof Digital Commerce.
Nominated as Best Retail Case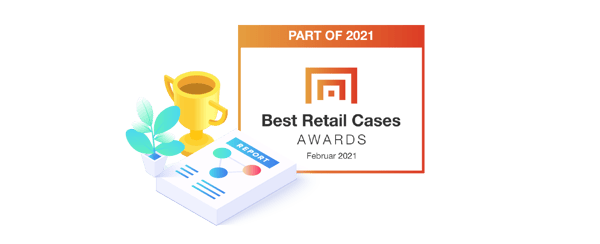 The Best Retail Case Award honors the most innovative solutions for retailers. We are pleased that our case with ETERNA Mode is also nominated in the categories Retail E-Commerce and Retail Omnichannel. You can still vote online for our entry until February 09, 2021. Every vote counts!