The Corona pandemic has shown many companies where more agility is needed in their business and IT structures so they can remain capable of action and successful in the turbulent markets of today. In this blog post, we demonstrate how companies can transform rigid ERP systems into flexible ERP ecosystems with the help of the Actindo Digital Operations Platform.
In many companies, the ERP system is the center of their IT landscape. More often than not, the system in use is a rather closed solution that exchanges data with other business-critical systems and interfaces only upon request. The exchange is often associated with a delayed response making it quite difficult to support the business processes as consistent as possible. Thus, existing IT architectures are often sluggish and usually not able to adapt quickly to new market requirements.
Using the Corona Pandemic as a Stress Test to Increase Crisis Resilience
The Corona crisis showed how much disruptive events can affect a company's market. For instance, the international supply chain can collapse due to production stops or logistical bottlenecks. As a result, sales can no longer go out as planned because the entire market is shut down or personal contact with the customer must be avoided completely.
Even though the Corona crisis in its global dimension can have very far-reaching effects that go beyond other market occurrences, it has also shown how flexible and quickly adapting companies can react to crises if prepared. Those companies have even gone so far as to turn the pandemic around and increase their earnings and success with the help of adaptable business processes and modern IT architectures.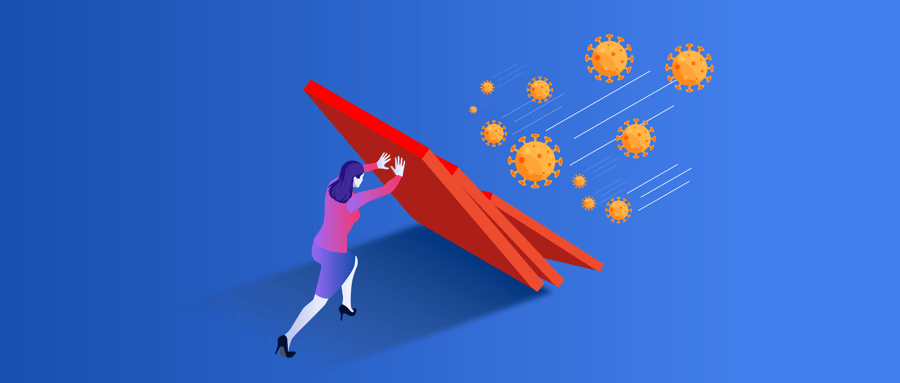 The balance sheet here certainly looks good for some, but probably critical for others. Instead of simply returning to the old "normal", it makes sense to take a closer look at the weaknesses that have been revealed as well as the opportunities and resources for innovation that have emerged - perhaps just as surprisingly - as the crisis itself.
Gartner Recommends an Easily Customizable ERP Ecosystem
It does not always have to be a global pandemic that disrupts a company's good economic rhythm: an unexpected, disruptive competitor, short-term changes in customer wishes, suppliers with innovative products, or even new legal regulations can be the cause for a need for a more crisis-proof, flexible set-up of an organization, business processes, and IT architecture. Nevertheless, the lessons learned from the COVID-19 crisis can be applied to the future.
In a recent ERP strategy analysis, Gartner analysts recommend that IT managers keep pace with rapidly changing business requirements by making their ERP solutions more responsive and freely customizable: They should renovate or replace critical legacy systems to accelerate the transition to composable applications, and reject any new monolithic solutions proposed by vendors or internal developers.
According to the statement, monolithic individual solutions are to be transformed into open digital operations platforms with ERP components that can be flexibly combined. This way, an ecosystem of ERP functionality is created that can be freely designed and further developed by the company. This enables integrations to new applications and other participants in the value chain to be easily made.
How a Digital Operations Platform Supports Composable Commerce
An open and powerful Digital Operations Platform demonstrates how the concepts of Composable ERP and Composable Commerce can succeed.
It combines the provision of ERP functionality in the form of freely customizable components with the ability to integrate existing systems, desired new solutions, or web services on a single platform.

A cloud-based service with an API-first strategy offers high scalability and good accessibility for other applications and mobile users so that companies can increase their flexibility and ability to act.
The Actindo Digital Operations Platform is characterized by the fact that it offers comprehensive ERP functionality, which companies can assemble freely from various components according to their requirements - such as purchasing, supplier and warehouse management, order processing and dispatch, customer management, accounting, and payment, even business intelligence.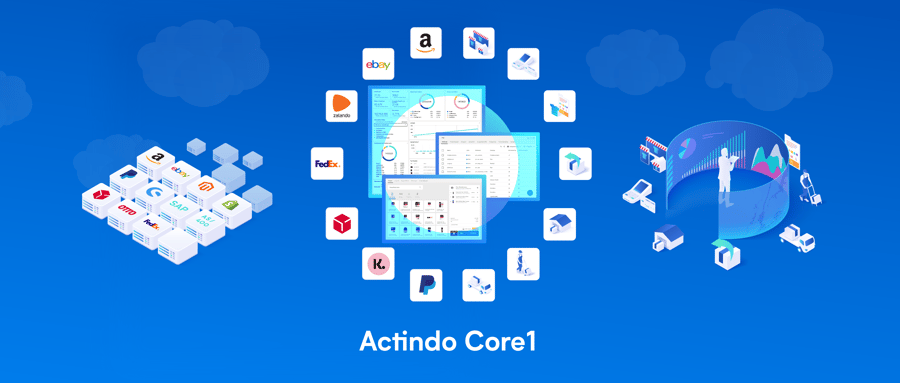 It also contains components for sales and e-commerce as well as modules for omni-channel orchestration, POS integration, ready integrations to online shop systems and marketplaces, payment providers, and shipping, and logistics service providers.
This setup allows the Actindo Digital Operations Platform to centrally provide and manage the interfaces to the other systems involved. On this basis, a uniform IT ecosystem can be designed and further developed from a range of different IT apps and solutions despite different technological characteristics, enabling companies to act flexibly and quickly on the market.
Actindo Datahub for Interface Management
Data and interface management between different systems in an IT landscape are often complex and easily lead to confusion. Therefore, the Actindo Digital Operations Platform offers a DataHub module for easy management of data and interfaces. It functions as a central data hub within the IT architecture.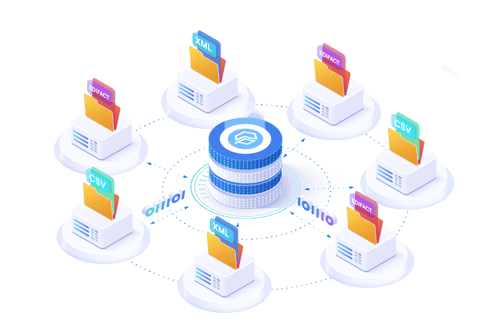 For instance, product data can be stored centrally in the company so that it is no longer scattered in multiple applications - and each system only requires one interface to the central Actindo DataHub. In a multi-stage data mapping process, the Actindo DataHub module ensures that the collected data is automatically converted into the required formats and, if necessary, enriched with further related data and information so that it can easily be made available for use in the desired target systems in real-time.
In addition, Actindo Core1's EDI connectivity can significantly improve overall supply chain management and data exchange with external partners. Learn more about the benefits of EDI in e-commerce.
Smooth ERP Evolution Instead of a Risky Mega Project
A major advantage of a Digital Operations Platform is that existing ERP solutions do not have to be completely replaced in a massive high-risk project. The modernization of an ERP ecosystem can be designed step by step because legacy systems can run alongside modern solutions such as web-based apps using the platform.
Thanks to this, companies benefit from the flexibility of being able to continue to use tried-and-tested systems such as AS/400 or SAP R/3 together with modern web-based solutions. When the legacy systems have reached the end of their useful life, they can be gently decommissioned, while corresponding new solutions - freely customizable - are already connected to the Digital Operations Platform.
Companies which plan on modernizing their ERP solutions in the next few years will be able to find a way to accomplish this in a systematic but gentle manner through the Actindo Core1 Digital Operations Platform. At the same time, they benefit from in-depth ERP functionality and the high integration capability of our platform, which becomes the stable foundation for a flexibly customizable IT ecosystem that ensures a great deal of freedom of action even in turbulent markets.