The driving experience of the future is digital and comes from 4.screen. The Munich based technology company has a mission: To help shape tomorrow's mobility and, with the 4.screen Mobility Experience Cloud (MCX), to offer standardized networking from the mobility ecosystem to the car itself, which industry manufacturers and service providers can integrate into existing applications.
Companies can communicate directly and in real time with drivers via their vehicle screen, place content for their target group and therefore bring them significant added value with benefits such as sponsored parking and charging stations.
Providers of all sizes – whether a local business or a global enterprise – can use 4.screen to maximize the driving experience while positioning their brand in the best way possible.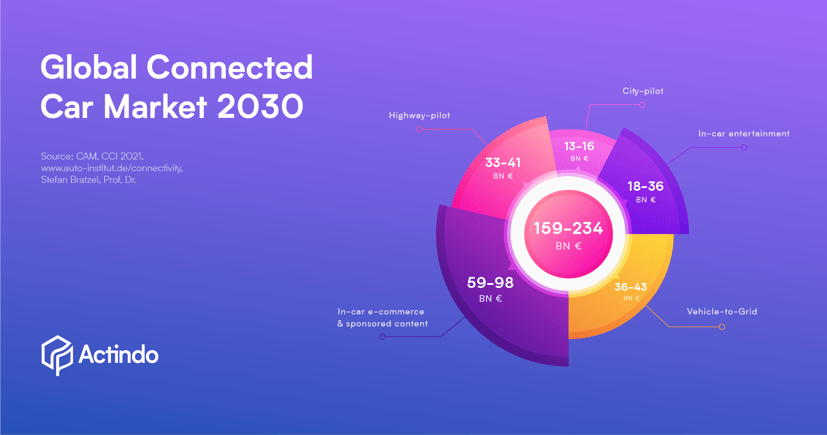 Developed by automotive, marketing and software experts, the innovative MXC technology will soon be supported by the Actindo Digital Operations Platform (DOP). The DOP is a perfect complement to the future vision of digital mobility and 4.screen can benefit from all associated advantages: flexibility, agility, innovation.
"We are pleased that we will contribute to the promising sector of in-car marketplaces with 4.screen as a customer. The fact that e-commerce and mobility will increasingly go hand in hand in the future places high demands on the software landscape, which our Actindo Core1 platform can meet," says Boris Krstic, CRO of Actindo, about the collaboration.
"Our Actindo Core1 platform based on MACH technologies supports the approach of composable enterprises in which every component is pluggable, scalable, replaceable, and can be continuously improved through agile development to meet evolving business requirements."
It does this with four pillars on which the platform is built: microservices, API first, cloud native and headless. In other words, MACH.
"Since an ERP system sits at the heart of operations management, we compared many systems. We chose Actindo Core1 because it makes the most modern impression in terms of flexibility and scalability. Our Mobility Experience Cloud handles millions of transactions every day and Actindo offers the ideal solution that can scale with us," adds Christoph Mahlert, CTO of 4.screen.
The constant evolution of technologies and the pressure to remain competitive can be accommodated by the Actindo Core1 platform. The rapid pace of digital transformation can make businesses of all kinds face challenges that can only be solved with state-of-the-art IT and a highly functional system landscape – and that is an absolute must for tomorrow's automotive industry.